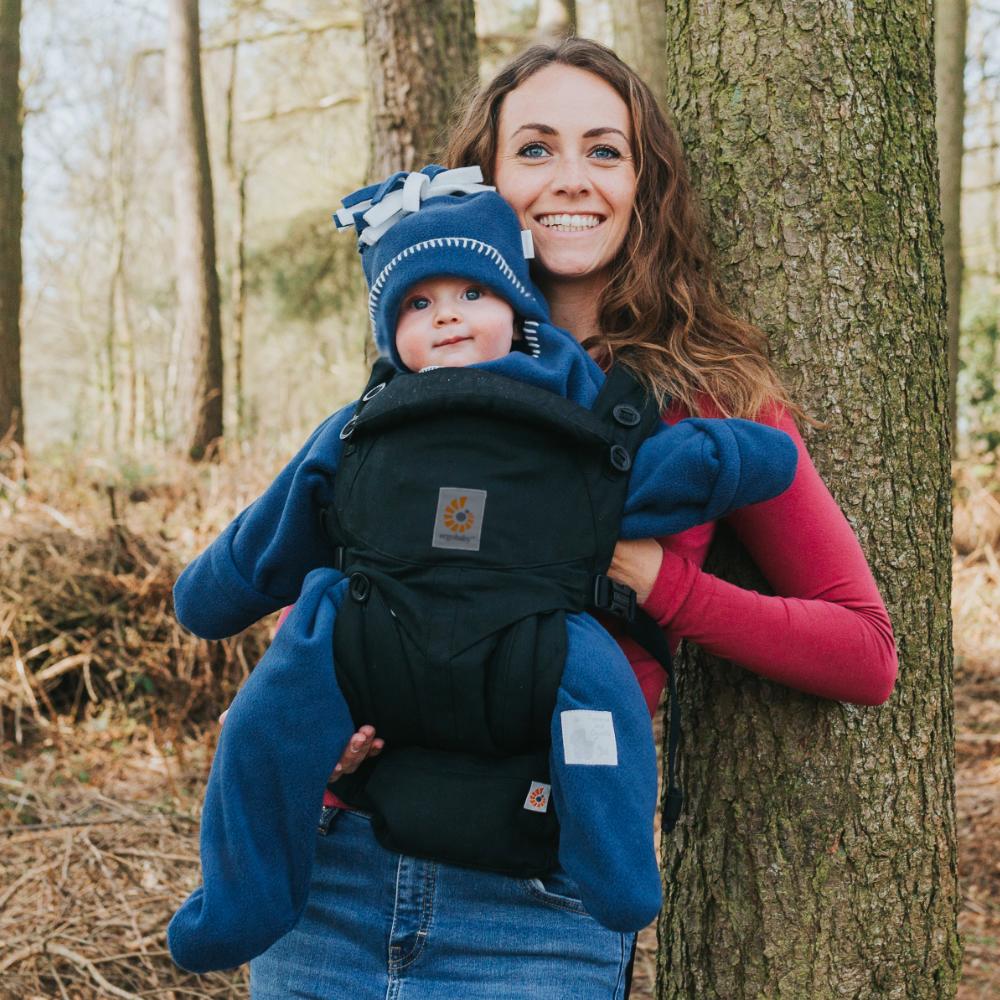 Starsnug Fleece 'Naturals'
Code
raiting star
raiting star
raiting star
raiting star
raiting star
16 reviews
---
We're sorry it's out of stock
We can let you know when it's available if you enter your email address below.
You will earn

0

reward points with this purchase
Product tabs
The popular fleece Star Shaped Baby Wrap in 'Naturals' colour range - 3 sizes direct from Tuppence & Crumble. ( More colours available in the 'Brights' and 'Classics' ranges.)
Small up to 4 months approx. £22.95, Medium 4-10 months approx. £24.95 and Large 11-18 months approx. £26.95.
Quick same weekday dispatch on in stock items before 1pm. Gift Bag tied with ribbon and gift message available at checkout. 
Practical all-in-one fleece Star Shaped Baby Wrap in our softer more organic colours.
Boys & Girls luxurious soft fleece star shaped pram suit / blanket wrap with cute tassel hood.
Perfect for pram, buggy, car seat* and sling. Transfer from one to the other with minimum disturbance.
Can be used underneath a five point harness.
Easy to slip on, no buttons, poppers or zips - just wrap and go.
Superior polyester fleece machine washable.
Little hands and feet keep 'toastie' warm without worrying about mitten or booty loss.
Hand openings on all sizes.
The original star baby wrap designed by Tuppence and Crumble.
Made in the UK, supporting British manufacturing and jobs.
Please refer to 'SIZING' tab for important sizing information.
The medium and larger sizes are priced differently to allow for the difference in fabric required.
*Please refer to our ' Star Baby Wrap FAQ's' tab for guidance.
Colours may vary slightly from time to time due to differences in dye batches.
Sending direct a gift to a loved one? Presentation Gift Bags closed with a tied ribbon are available at a small extra cost to make your gift special. Please add to basket  at checkout. 
A free personalised gift message can be printed on the delivery note.
This is available when you purchase a gift bag at checkout.
If you don't require a gift bag you can also put your free message in the 'Delivery instructions' text box at checkout and this will be applied to the delivery note.
Presentation Gift Bags closed with a tied ribbon are available at a small extra cost to make your gift special. 
No price information is included.
Sizes: by Approximate age 
Small up to 4 months
Medium 4-10 months
Large 11-18 months (not available in Classics range)
The star wraps are made to a generous fit so 4-10 months wraps will be in most cases too large for babies under 3 months.  If you are buying for a new baby the 0-4 is definitely a better bet.
Mediums are sized up to 10 months, so are far too big for newborns. Smalls are generously sized and will fit usually up to 5 months.
For a guide use the measurements below measuring your baby from neck to foot (measurement B) and neck to nappy (measurement A).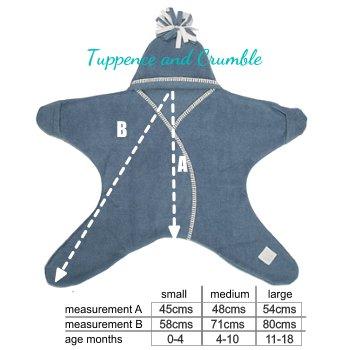 How do I put a Star Baby Wrap on my baby?
Its' so simple to use, just pop your dressed baby into the wrap, arms and legs into the points of the star, hood on head and you're ready to go. Baby can then be put in the car seat, transferred to buggy, pram or sling with minimum disturbance. Unlike other wraps you don't have to restrict their arms or place the blanket into the car seat before the baby. Baby just wears it like a suit and because it doesn't have any zips buttons or fasteners its easy to open up if baby gets too warm or needs a nappy checked. Hands and feet are covered without the worry of loosing booties or mittens. 
When can I use a Star Baby Wrap?
The fleece star baby wraps can be usually used for at least 3 seasons in the UK, depending on outside temperature. We do find, as it's a single fleece over layer, it's more adaptable than a snowsuit or jacket and can be taken on and off quickly without the struggle of little arms in tight jacket sleeves and the tears! Although, mostly used in Autumn, Winter and Spring it can be useful as quick cover-up on cooler summer evenings and is always a great stand-by to put under the buggy. Top tip: You can fold and roll up the Snugstar star baby wrap into its own hood to store!
How do I wash my Star Baby Wrap?
Fleece Star Baby Wraps can be machine washed at 30 degrees but please don't use a long wash cycle. Please do not tumble dry, you will find the fleece air dries quite quickly. We recommend to turn the star wrap inside out and not to wash with items containing velcro which could pull the stitching. Washing instructions are inside the wrap by front opening.
Can I use my Star Baby Wrap in a Car Seat?
Yes you can, if you follow some simple guidelines. The Tuppence and Crumble Star Baby Wrap is made of a single fleece layer and is not padded like a snow suit or thick jacket.
If used in a car seat please make sure there are no more than 2 layers of wrap fabric under the straps and that it lies flat and is not 'bunched' under the straps to ensure that your baby is securely fastened into the seat and so prevent excessive movement. When correctly fastened the straps should be tight enough that only 1 or 2 fingers can fit between the child's chest and the strap. Please also take into consideration the number of layers you have underneath the wrap. This is why we recommend buying the correct size Starsnug for your baby, to minimize excess fabric.
Please note, we can't quote R44.04 and i-size car seat safety standards in relation to the wraps because these standards only apply to the actual car seat, not the wrap or clothes the baby is wearing! Any 'tests' quoted in line with these regulations can only apply to the safety of the car seat itself. If you follow the general safety advice on putting a baby in a car seat using the 1 or 2 finger test as outlined by RoSPA, this should stop excess movement in the event of a crash, so it's important to check the harness is snug on every journey. 
As with all baby overcoats, blankets and wraps caution should be exercised when used in a car seat to prevent your baby overheating. Even on chilly days cars can heat up very quickly and combined with the insulative properties of car seats babies can get too warm too quickly. The Starsnug is a very practical snuggly wrap which is easy to get on and off your baby, without tears, so if you choose not to use it on a car seat, we are sure you will find plenty of occasions to use it in your pram, buggy or carriers when out and about.
Can it be used for Nightwear?
This product is intended as an outdoor wrap it is not a sleep product and should not be used as a night time sleep suit.
Personalisation.
We do not provide personalisation of our products. At a time when 'one use' clothing is in the news regarding its environmental impact, we think personalisation reduces the likelihood of our Starsnugs being used to their full potential.
We find our Starsnugs often last for more than one sibling and retain their usefulness for a longer lifetime due to their superior quality.
We have also found that because they are used outdoors, as well as in, personalisation tends to be less popular.
Goods are usually dispatched on the same day of the order being place, if ordered on a working weekday before 1pm, but this may be longer if the stock is being renewed. Delivery options and dispatch times may vary in special circumstances (eg holiday periods). Notice will be given on the website. Orders taken at the weekend after the cut-off on Friday at 1pm will be dispatched on the following Monday.
In the event of an item is out of stock we will communicate with you and offer an alternative if one is available, or keep in touch and advise when the product is available once more.
 Email Gift Vouchers are available - see main menu.
| | | |
| --- | --- | --- |
| Delivery Type | Estimated Delivery Time | Cost |
| Standard Delivery Tracked 48 | 2-3 days * | £3.50 |
| Free UK Shipping (orders over £35 to one UK address only.) | 2-3 days* | FREE |
| Royal Mail Tracked  24  | 1-2 days (not guaranteed)* | £4.95 |
| UK Expedited-Royal Mail Special Delivery Guaranteed® By 9pm | Next working day if ordered Mon to Thurs before 1.00pm | £7.95 |
| IRELAND, FRANCE, SWITZERLAND Royal Mail Tracked | SUSPENDED | Weight based from £8.95 (€10.50) Maybe subject to duties see below. |
| USA & Canada- Royal Mail Tracked | SUSPENDED | Weight based from £9.75 |
| Australia & Rest Of World-Royal Mail tracked | 5-9 working days  | Weight based from £10.00 |
Duties & Taxes
International packages may incur taxes and/or duties. Please familiarise yourself with your country's fees and policies before placing an order. Our wraps are zero rated for VAT in the UK and in Ireland but this may not be the case in other countries. If applicable these charges will be the liability of the customer or receiver.
Reviews (16)
raiting star
raiting star
raiting star
raiting star
raiting star
Finally something for my little girl that is lovely and warm without being puffy and uncomfortable!! My daughter is currently 6 months ago she hates all coats and snowsuits so it would be a nightmare to put one on her but this is a game changer she absolutely loves it!! It keeps her lovely and warm in her car seat and also in her buggy with her Foot muff I have had so many compliments and we have only been using it for 2 days I am just about to order another one for her in a different colour!! Highly recommend better than bulky puffy coats she always feels nice and warm when I take it off her
raiting star
raiting star
raiting star
raiting star
raiting star
I was gifted a small by family for my daughter and I loved it so much that I got a medium when she outgrew the small. So lovely, warm and convenient when going out, the blanket isnt too think and the cut and shape allows you to keep it on baby when you put them in a carseat or in the pram. I'm now purchasing a dove grey for my son (coming in June) and it's the ideal gift for other mums!
raiting star
raiting star
raiting star
raiting star
raiting star
Saw these by chance on a FB group and bought the medium in autumn 2021 for my then 3 month old daughter. It was big on her at first, but worked perfectly at keeping her warm in the car seat and on our daily sling walks. It is incredibly easy to slip on and off, she loved the soft fleecy fabric and when she couldn't wear any wool knitted items due to eczema, the fleece was still comfortable for her. I have lost count of the compliments I received on it and recommend them to everyone. Just looking at purchasing the large for the coming autumn and winter, as they are definitely worth the money.
raiting star
raiting star
raiting star
raiting star
raiting star
This blanket has been a lifesaver! It never fails to get my son off to nap!!
raiting star
raiting star
raiting star
raiting star
raiting star
Wish I'd had one for my first baby! Ideal for the pram, car seat and sling. Soft, beautiful colour (oatmeal) and my daughter has always been snug. Would defo buy for any friends, expecting!
raiting star
raiting star
raiting star
raiting star
raiting star
The Starsnug wrap is my most beloved / recommended / gifted item. It's brilliant for cosy cuddles at home, quick transitions (buggy to car etc) and for winter walks in the carrier. Thoughtful details like the oversized hood (which also protects from bright sun shine) and the foldable hand covers make me love it even more. The colours are gorgeous, it is a breeze to wash and dries in a jiffy and Im supporting a local business so every body wins!
raiting star
raiting star
raiting star
raiting star
raiting star
I was given one as a gift… I will be ordering one when my son grows out of the one he has! Everyone comments on it and say they've never seen them before, and ask where it's from! There easy, so practical and super cosy :)
raiting star
raiting star
raiting star
raiting star
raiting star
Happened to see these by chance as another mum had been given one as a gift. As soon as I saw her little boy in it I rushed home to purchase one for my daughter. I wish I had seen them sooner as they absolutely super and didn't disappoint ! No more wrestling with zips or poppers a great time saver and so easy. They wash well and dry quickly too are easy to store as not bulky. Great having the hands in or out option found this very useful and no need for a hat either. My daughter also loves it and looks adorable in the Raspberry one however it was a tough call between that and the heather. Would thoroughly recommend them to anyone x
raiting star
raiting star
raiting star
raiting star
raiting star
These wraps are just perfect so easy to use, warm very cosy, get a lot of comments about them. Would always buy, a must have as part of your child's wardrobe.
raiting star
raiting star
raiting star
raiting star
raiting star
We absolutely love our Starsnug, it is so convenient for transferring baby to car/pram/sling. The material is so lovely and warm I only wish they made them for adults! Will 100% be buying the next size when outgrown this one!
raiting star
raiting star
raiting star
raiting star
raiting star
Saw a baby in one today everyone in the shop was saying he was so snug. His mum told me about you. Buying for all new babies i know xxx love love love
raiting star
raiting star
raiting star
raiting star
raiting star
I was given a Starsnug as a gift .Its absolutely perfect, we've just started using it. They're absolutely adorable and so warm . He looks so cute in it. Beautiful gift and I will buying these as gifts myself.
raiting star
raiting star
raiting star
raiting star
raiting star
I was given one as a gift when my son was born. At the time, I thought it was sweet... but oh my word, we've used it every day through autumn and winter! He loves being put into, he cuddles into it. He's so toasty warm in there, no need for anything else in his pram. We have the 4-10m one and at 7m he's now a bit snug in it (he's on the large side). I've asked for the biggest size for Christmas. People comment on it all the time.
raiting star
raiting star
raiting star
raiting star
raiting star
I absolutely love my star wrap. My friend recommended them but I didn't buy one straight away as I thought I don't need this. Bought when little one was 3 months and wish I'd bought it sooner! He's in it all the time I'm lost without it when it's in the wash. I got it in raspberry and the colour is lovely, very vibrant. He looks soooo cute it in too! I've also bought a star towel for swimming and I'll be buying the next size up wrap and possibly the cotton one for summer. Wish I could afford to have multiple wraps in all the colours!
raiting star
raiting star
raiting star
raiting star
raiting star
Absolutely amazing! My baby loves it - no more tears trying to squash her into a restrictive snowsuit! I lay it down in the pram and place her straight into it so there's no fuss at all. Then when I go into a shop, I just take her arms and upper body out so she's not too hot - it makes pram-life so easy! Not to mention she looks absolutely adorable in it! Wonderful product and I'll be buying them as gifts for all of my friends' future babies!
raiting star
raiting star
raiting star
raiting star
raiting star
Beautiful cosy and practical wraps. We purchased two in the small size for our twins in neutral colours before they were born and are now purchasing the medium size for the winter. So easy to put on and both girls love snuggling up in them. Warm enough for properly cold weather but not too bulky for the cooler summer evenings. We'll be back for the large sizes next year!