Tips and advice on using your Starsnug Star Baby Wrap.
Thinking of getting a Star Baby wrap and wondering how useful it will be? Have you been gifted one and its all new to you?
Well help is at hand with our blog post about all things you need to know about the Starsnug Star Baby Wrap!
What is a Starsnug Star Baby Wrap?
The Starsnug, designed by Tuppence and Crumble and is still made for them in the UK today, is essentially a versatile all in one outer layer cover for baby that is shaped like a star. It includes a hood and hand openings but has the great advantage in its design to allow the baby to be wrapped up without the need for fiddly fasteners or zips. The points of the star create the arms and legs whilst the hood creates the fifth point of the star. The opening at the front is created by a fold over flap.
How do I put a Star Baby Wrap on my baby?
Its' so simple to use, just pop your dressed baby into the wrap, arms and legs into the points of the star, hood on head and you're ready to go. Baby can then be put in the car seat, transferred to buggy, pram or sling with minimum disturbance. Unlike other wraps you don't have to restrict their arms or place the blanket into the car seat before the baby. Baby just wears it like a suit and because it doesn't have any zips buttons or fasteners its easy to open up if baby gets too warm or needs a nappy checked. Hands and feet are covered without the worry of loosing booties or mittens.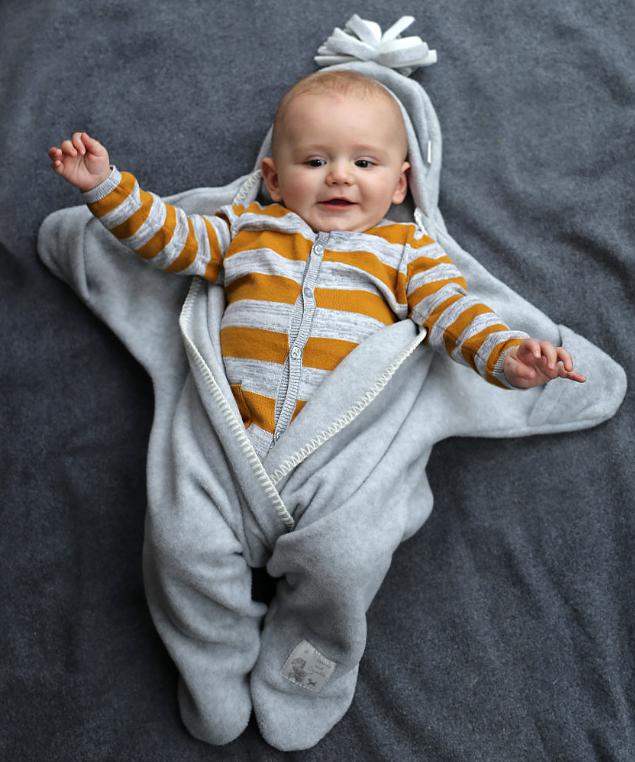 When can I use a Star Baby Wrap?
The fleece star baby wraps can be usually used for at least 3 seasons in the UK, depending on outside temperature. We do find, as it's a single fleece over layer, it's more adaptable than a snowsuit or jacket and can be taken on and off quickly without the struggle of little arms in tight jacket sleeves and the tears! Although, mostly used in Autumn, Winter and Spring it can be useful as quick cover-up on cooler summer evenings and is always a great stand-by to put under the buggy. Top tip: You can fold and roll up the Starsnug star baby wrap into its own hood to store!
How do I wash my Star Baby Wrap?
All our Star Baby Wraps should be machine washed at 30 degrees. Please do not tumble dry the fleece and cotton jersey versions. You will find the fleece air dries quite quickly. We recommend to turn the star wrap inside out and not to wash with items containing Velcro which could pull the stitching. Washing instructions are inside the wrap by the front opening. We also recommend that no fabric softeners are used because they can affect the pile of the fleece and are not really need as the fleece is naturally baby soft.
Can I use it in a Car Seat?
Yes you can, if you follow some simple guidelines. The Tuppence and Crumble Star Baby Wrap is made of a single fleece layer and is not padded like a snow suit or thick jacket. It can be considered as a item of clothing when used in a car seat with consideration to the following.
If used in a car seat please make sure there are no more than 2 layers of wrap fabric under the straps and that it lies flat and is not 'bunched' under the straps to ensure that your baby is securely fastened into the seat and so prevent excessive movement. When correctly fastened the straps should be tight enough that only 1 or 2 fingers can fit between the child's chest and the strap. Please also take into consideration the number of layers you have underneath the wrap. This is why we recommend buying the correct size Starsnug for your baby, to minimize excess fabric.
Please note, we don't quote R44.04 and i-size car seat safety standards in relation to the wraps because these standards only apply to the actual car seat, not the wrap or clothes the baby is wearing! Any 'tests' quoted in line with these regulations can only apply to the safety of the car seat itself. If you follow the general safety advice on putting a baby in a car seat using the 1 or 2 finger test as outlined by RoSPA, this should stop excess movement in the event of a crash, so it's important to check the harness is snug on every journey.
As with all baby overcoats, blankets and wraps caution should be exercised when used in a car seat to prevent your baby overheating. Even on chilly days cars can heat up very quickly and combined with the insulative properties of car seats babies can get too warm too quickly. The Starsnug is a very practical snuggly wrap which is easy to get on and off your baby, without tears, so if you choose not to use it in your car seat, we are sure you will find plenty of occasions to use it in your pram, buggy or carriers when out and about.
Can it be used for Nightwear?
This product is intended as an outdoor wrap it is not a sleep product and should not be used as a night time sleep suit.
That's about it, of course if you have any further questions please don't hesitate to contact us and we will be pleased to advise.
All written contents above is owned by Tuppence and Crumble Ltd. If you want to share our information please respect our copyright and contact us first for permission. You must not distribute or copy this content without our express permission. Thank you